HEATING PERFORMANCE OPTIONS
HEATING PERFORMANCE OPTIONS
Bi-metallic Air Control
Certain RSF Fireplaces have a unique bi-metallic damper incorporated into their firebox. This damper works like the thermostat on your furnace and delivers unsurpassed temperature control to your living space.
Conventional air-controlled fireplaces have fixed air controls which burn up to 50% of their wood load in the first 2 hours of their burn cycle. This means excessive heat for the first two hours, and little heat for the next eight.
RSF's bi-metallic damper senses the temperature in the heat exchanger and automatically reduces the air setting at the start of the burn cycle and then reopens it at the end delivering even-controlled heat throughout the burn cycle. The bi-metallic damper also automatically adjusts to your home's heating demands, burning more wood on a cold winter night and less on late spring evening yet always delivering the same temperature-controlled heat to your living space. RSF's unique bi-metallic damper is just one of the reasons RSF fireplaces have earned the coveted Popular Science Choice award.
Central Heating Capabilities
The Central Heating option enables RSF fireplaces to be ducted in any direction, including downwards to a floor beneath the fireplace. The ducting from an RSF fireplace can be set up a number of different ways:
You can run a single duct from your RSF fireplace to a cool room on any floor of your home and use a thermostat in that room to turn on the blower when the room requires heat. [Options FDHB6-1 and FDHC6].
RSF's unique Bi-Metallic Air Control automatically adjusts the burning rate of the fire to supply additional output to your central heating system.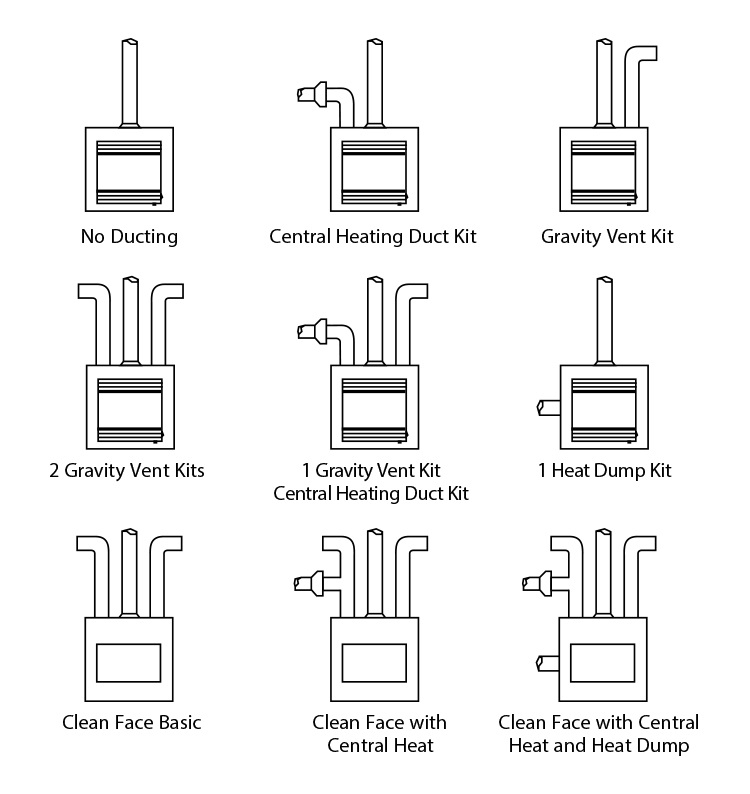 Central Heating
A duct can connect your fireplace to the central heating furnace ductwork to enable the heat from the fireplace to be distributed evenly throughout the home. Consult the diagram. [Options FDHB6-1 and FDHC6].
Zone Heating
Ducting can be installed to supply up to three separate zones in your home with each zone controlled individually using our Zone Heating Control and Zone Definition Kit. Consult diagram above. [Options FDHB6-1, FDHCZ1 and FDHCZ2].