HEAT DISTRIBUTION OPTIONS
HEAT DISTRIBUTION OPTIONS
Note: Heat distribution options are not available with every fireplace model. Please review the Options and Specifications list to determine which fireplace models are compatible.

Gravity Vent Kit
All fireplace models can be installed with an optional Gravity Vent Kit. This kit allows you to duct heat from the fireplace to another room either above or on the same floor as the fireplace. The Gravity Vent option is required on all our clean-face models and does not require a fan or electricity to operate.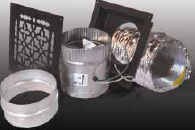 Heat Dump Kit
The Heat Dump Kit uses a small (200 CFM) fan to direct a moderate amount of warm air from the fireplace to another room. It is most often used to provide supplemental heating to a basement room or to prevent overheating of the room where the fireplace is located.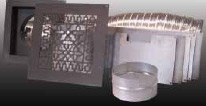 Clean Face Kit
Certain fireplaces have the option to block off the louver openings for a cleaner look. The Clean Face Kit is required on all complete clean-face installations. It consists of blocking plates that cover the grill openings and an air intake duct that brings air circulating in the home into the fireplace. Gravity vents are required in combination with the Clean Face Kit to permit the heated air to enter the home.
Wall-Mounted Electric Thermostat
RSF's unique bi-metallic air control can be combined with a White Rogers® wall-mounted thermostat to automatically regulate heat output. The thermostat adjusts the airflow into the fireplace to maintain the desired temperature in your room, much like a furnace. No need to fiddle with your fireplace; simply set it and forget it.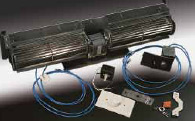 Internal Blower
The Internal Blower will improve the airflow around the firebox by drawing in cold air from the floor and mixing it with heated air from the fireplace. This feature is not available on clean-face models.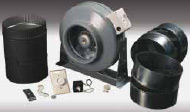 Central Heating Blower
This optional 635 CFM external blower can be used to circulate heat from the fireplace in any direction. This feature includes the blower, 5 feet of noise reduction ducting, a variable speed control, a mounting bracket, and a back draft damper. [Option FO-FDHB6-1]
Inline Fan
The Inline Fan improves air circulation in a similar way to the internal blower. It is intended for fireplaces that have the Clean Face option installed.