Photo courtesy of Country Stoves & Sunrooms, East Aylesford, NS Canada
Superior Quality Construction 
Continuously welded seams – no leaks, no possibility of seam separation
Type 304 stainless steel
All stainless steel components
Factory hemmed ends – smooth, safe surfaces – no more cuts
All stainless steel rivets provided with each liner section
Pre-punched holes – no drilling required
Easy to install
Lifetime Warranty
The EXCELiner is certified as a stainless steel chimney liner for use on appliances that burn wood, oil and natural gas and comes in 5″, 5.5″, 6″, 7″ & 8″ diameters.
Factory hemmed ends and smooth overlap joints make for safer, easier installations with no more cuts.
Laser welded seams prevent leaks and eliminate the possibility of seam separation
Lengths and components are made with Type 304 stainless steel
Assembly is easy with the pre-punched holes and stainless steel rivets provided.
Lifetime warranty
 

EXAMPLES OF STANDARD EXCELINER INSTALLATIONS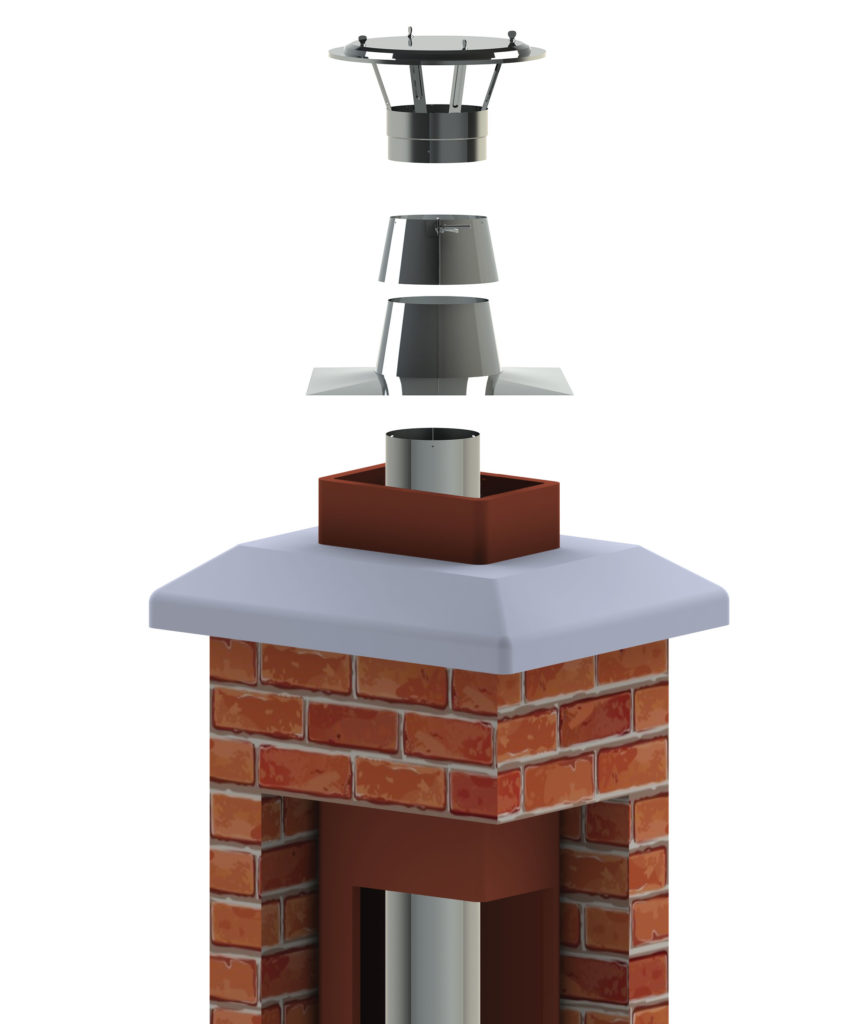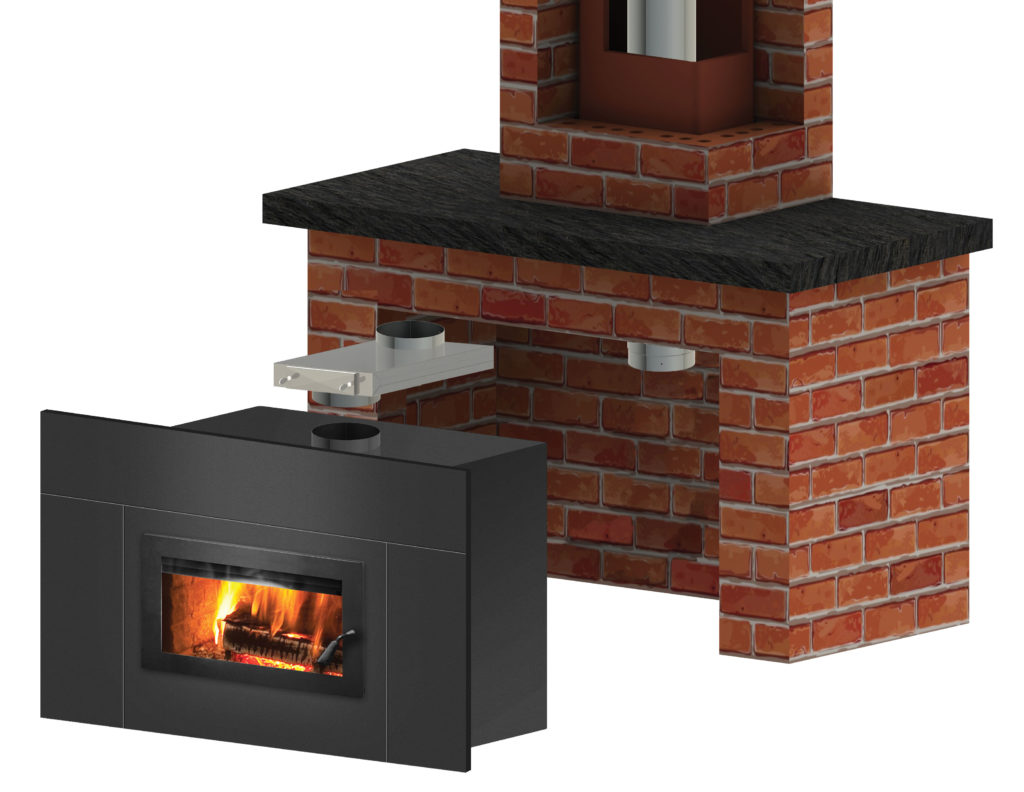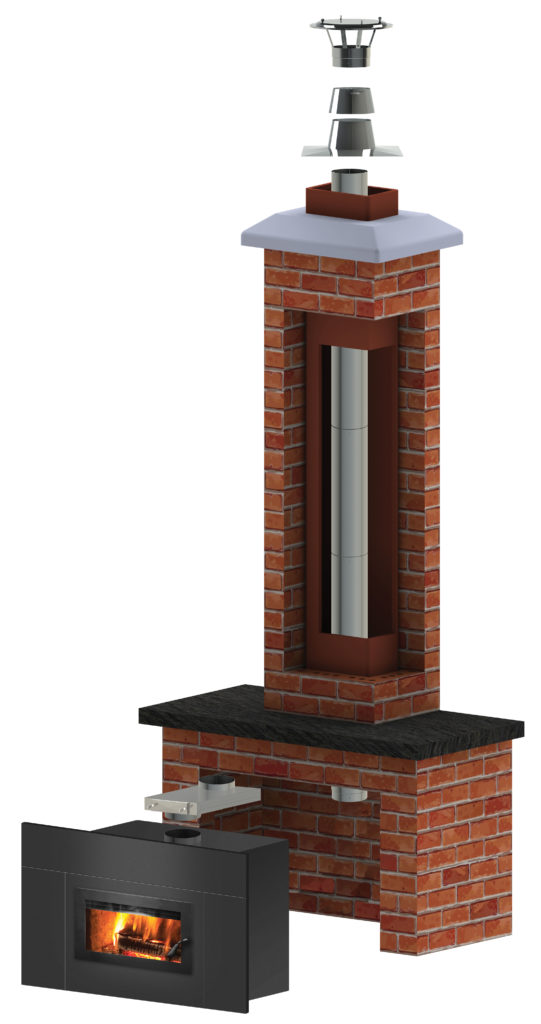 CERTIFICATION
EXCELiner is tested and listed by Intertek Testing Services to the following standards:
ULC S-635 – Standard for relining existing masonry chimneys in Canada.
ULC S-640 – Standard for liners for new masonry chimneys in Canada.
UL 1777 – Standard for liners in new and existing masonry chimneys in the USA.
The installation requirements vary depending on which Standard your installation must meet, particularly with respect to the requirements for insulation and clearance from the liner. You must ensure that your EXCELiner is installed in accordance with your local building codes.
EXCELiner is available in 5", 5.5″, 6", 7" and 8" diameters
EXCELiner is certified for installation in combination with all certified brands of flexible chimney liner.
Construction
Single wall
.016" or .025" stainless steel
Seam
Continuous seam welded
Insulation 
Optional (required for some applications) foil backed ceramic liner
Applications
EXCELiner is certified as a chimney liner for use on appliances that burn:
Allowable Flue Gas Temperatures
Max Continuous 650°C (1200°F)
Brief Forced Firing 925°C (1700°F)
Tested To 1150°C (2100°F)
Clearance to Combustible Materials
The clearance between EXCELiner and surrounding combustible and noncombustible materials varies with the type of installation. Please refer to the installation instructions for specific details for your application.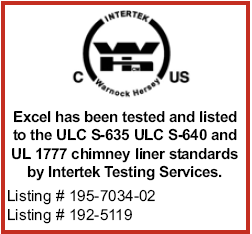 LIMITED LIFETIME WARRANTY FOR EXCELINER
ICC warrants its stainless steel chimney liner to be free from functional failure due to defects in material or workmanship for as long as the original consumer owns the chimney system. This warranty provides for replacement of any stainless steel components, except rain caps, which fail as a result of normal use with a residential freestanding fireplace, wood burning stove, furnace or boiler, including damage to the liner due to a chimney fire. This warranty does not cover damage caused to the original masonry chimney, or to the building, by chimney fires or misuse of the product.
Note: Chimney fires are dangerous and preventable, we strongly encourage you to have your chimney liner cleaned regularly.
ICC will only be responsible for repair or replacement of stainless steel components found to be defective under this warranty. In no event shall ICC be responsible for any incidental or consequential damage caused by defects in the stainless steel chimney liner system.
During the first ten years of the warranty ICC will repair or replace any defective stainless steel components, except rain caps, at no charge. For the balance of the warranty ICC will provide replacement stainless steel components at 50% of the current retail price at the time of the warranty claim. To obtain service under this warranty the defective liner should be returned to the dealer from whom it was purchased. If you are unable to return the liner to the original dealer contact ICC for the name of the closest dealer who can assist you. ICC will not be responsible for shipping charges related to warranty replacements.
ICC will not be responsible for labor of any kind required in the removal or replacement of a chimney liner system replaced under this warranty.
This liner is designed to vent residential heating oil, untreated wood, and natural or LP gas. It is designed to operate at a continuous temperature of 650°C (1200°F) or less. It is not designed to vent coal burning appliances, condensing gas or condensing oil appliances. This warranty is void if the liner is used in an application for which it is not designed.
The chimney liner system must be installed according to the Installation Instructions included with every system at the time of purchase. If you do not have a set of installation instructions they are available free upon request. This warranty is void if the liner system is not installed according to the installation instructions.
This warranty may not be extended or modified by our agents or representatives. This warranty is in lieu of all other express warranties or guarantees of any kind.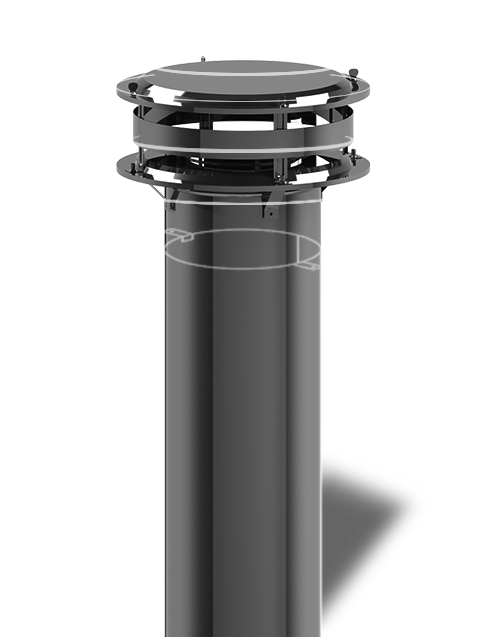 TRY THE EXCEL CHIMNEY CONFIGURATION TOOL
Need help choosing the right components to install your chimney?
If you're installing a wood stove, our chimney configuration tool will walk you through finding all the right parts for your job.