INNOVATION
ICC is a market leader in venting manufacturing. We apply leading-edge technology and engineering to find innovative solutions for everyday problems.
Our innovative components are conceived with the goal of faster, easier assembly, which is the best way to reduce labor cost and installation errors.
All ICC products are built to meet modern needs in the harshest environments.
APPLICATIONS
VIP+ is a modular, double wall chimney system designed to vent positive pressure appliances. The prefabricated design has a sealed flue capable of containing pressure up to 60 inches of water column and is built to operate at continuous temperatures up to 1400˚F.
It is suitable to vent:
Stationary engines such as generators or turbines
Furnaces and boilers
Industrial ovens and process equipment
Combustion gasses or heated air
Restaurant hoods
LISTINGS
VIP+ has the following certifications:
UL103 Pressure Listed: Standard for factory-built chimneys for residential-type and building heating appliances
UL1978 Standard for grease ducts
UL2561 Standard for high temp (1400°F) factory-built chimneys
ULC/ORD-C959 Standard for 540°C and 760°C industrial chimneys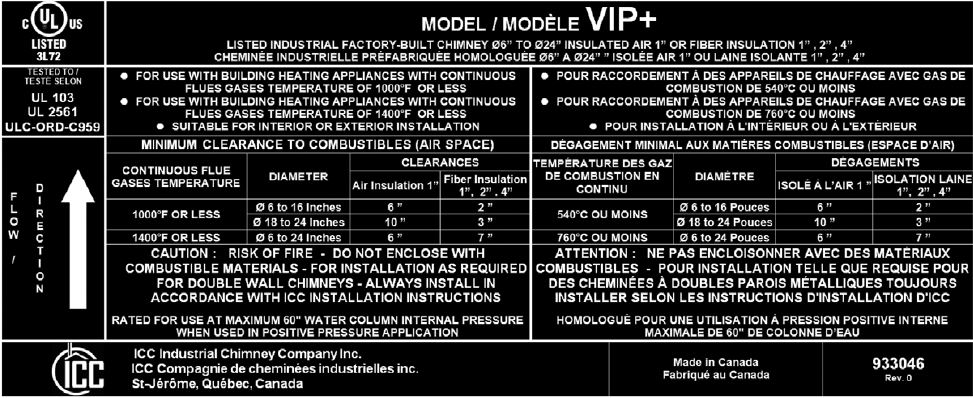 GREASE DUCT 36″ HEATED TO 2000 °F
In the ICC Lab we are heating Grease Duct 36" diameter chimney to 2000° F and we are measuring the temperature on combustible materials installed at 0 clearance. Despite the inner liner glowing cherry red the outer casing can still be touched!
Installation Instructions – Chimney
ENGINEERING
Upon request, our engineers will analyze schematic drawings and appliance data to determine the correct size and parts for any exhaust system. ICC will also provide an itemized and labeled drawing to help in the installation of the system.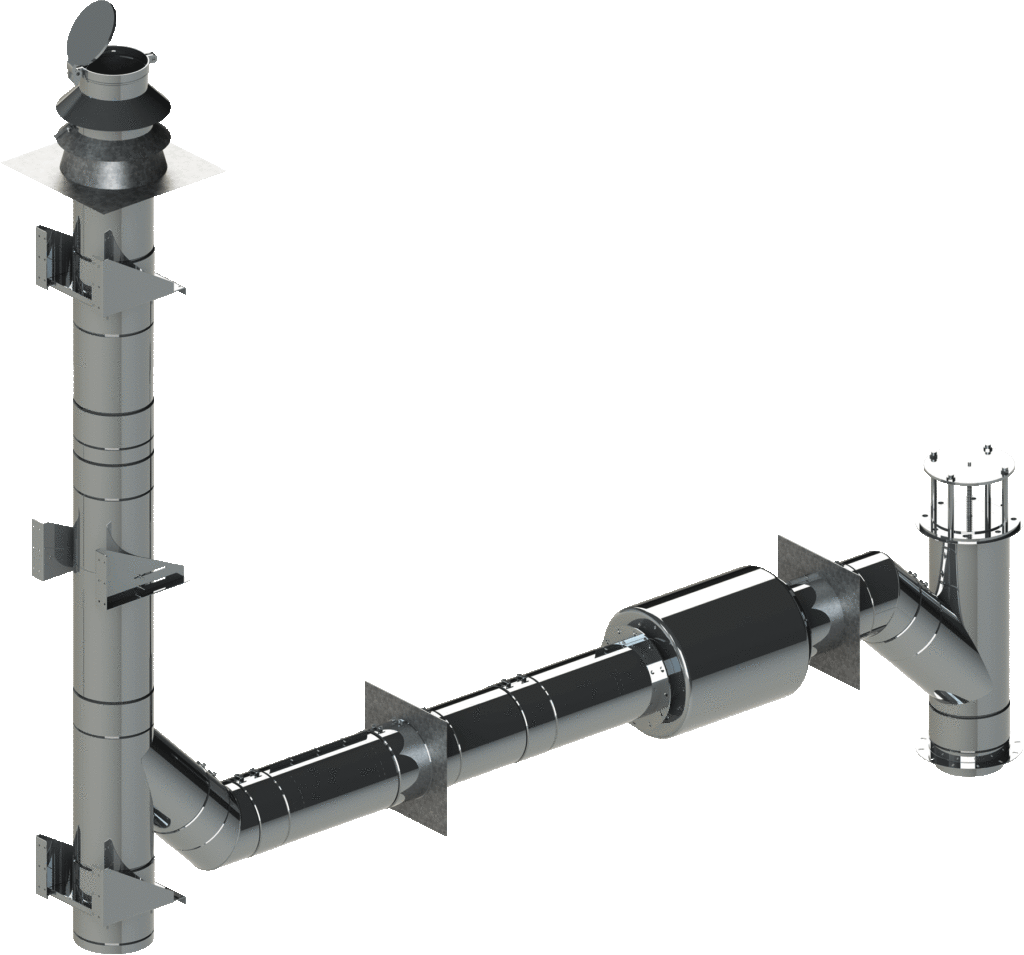 CONSTRUCTION
FLUE:
A VIP+ length can have an inner liner made of either type 304 or 316 stainless steel.
CASING:
The outer casing can be made of type 304 stainless steel, 316 stainless steel, or Galvalume steel.
SEAMS:
The inner liner has a continuous butt-weld seam for a high degree of tolerance and a tight fit. The outer casing has an overlap resistance welded seam that is gas- and watertight.
SIZE:
The diameters available are 6, 8, 10, 12, 14, 16, 18, 20, 22 and 24 inches.
DOUBLE WALL OPTIONS:
1 inch wall air cooled
1 inch wall insulated
2 inch wall insulated
4 inch wall insulated
INSTALLATION
VIP+ is designed with an overlapping male-female joint. Lengths align easily and seal tightly at all connections. Each length includes an inner locking band which provides structural strength and holds the assembled parts together. The inner locking band also encapsulates the sealant required for a leak-free system. This connection method greatly reduces labor, especially on the horizontal portion of the installation.
Access to the inner locking band is made possible by a 6-inch gap in the outer casing; an outer band bridges the gap. Insulated systems include a strip of insulation which must be installed inside the outer band.
Every component that is in contact with the flue gasses has the inner and outer locking band pre-installed. For insulated systems, an additional insulation wrap is included to fill the void.