Manufactured / Mobile Home Certification
All RSF Woodburning Fireplaces are tested to UL 127, CAN/ULC-S610, approving them for use in homes built onsite. However, several have the distinction of additional certification to be installed in manufactured, mobile, and transportable homes.
What does that mean? Fireplaces that are certified for installation in manufactured homes have some additional requirements. The most important requirement is that they are virtually airtight to the home, even while they are operating. Fire needs air to burn, and most fireplaces get some of that air from inside the home and some from outside the home. Most fireplaces and stoves have "outside air" kits, but there is almost always a portion of the air that comes from inside the home. In the case of fireplaces certified for use in manufactured homes, virtually all the air comes from outside the home.
outside air returns outside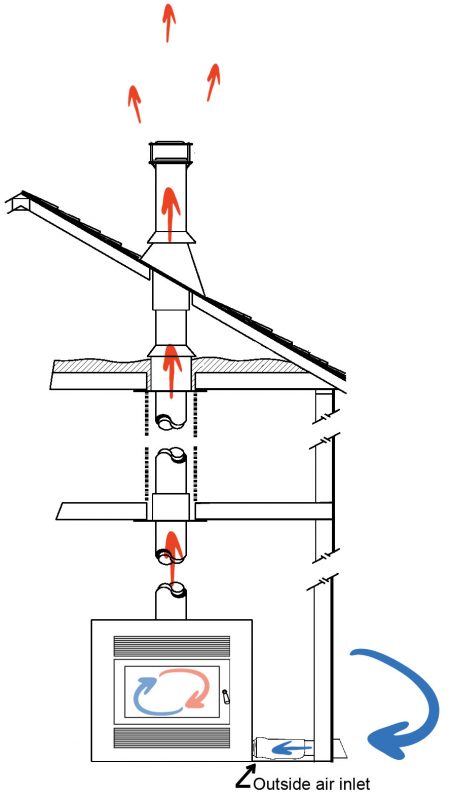 This feature makes these fireplaces ideal for several applications. The first being manufactured homes of course, but also LEED, R2000, and Passive homes which have strict requirements for air exchange. These fireplaces maintain the air balance in the home since virtually all the air for combustion comes from outside and is returned outside by the chimney. The air from outside stays where it belongs, while the heat produced by the fireplace contributes to warming the home.
It is always recommended to verify the definition of "Manufactured Home" with your local legislation. In general terms, this means the home is either completely or partially fabricated in a factory and then transported to the home-site as opposed to homes which are completely built on their final home-site.
Always refer to the installation manual and operating instructions before installing your RSF wood-burning fireplace.