How it works
The technology behind the clean-burning Renaissance Rumford™ has remained a secret since its inception. But no longer! Read further to learn more about the aspects that contribute to our award-winning emission numbers.
Count Rumford knew his stuff. We've found that the classic Rumford firebox proportions produce a vertical fire which concentrates hot combustion gasses while at the same time radiates heat back through the firebox for a hotter fire. Read about the fascinating history of Count Rumford on our Rumford Fireplace History page.
Rumford vs. Conventional Fireplaces
A Rumford fireplace will produce a beautiful fire that gives off more heat with a smaller wood load. The result is a spectacular flame that burns bright and clean.
Keeping your Home Airtight Preventing Heat Loss
Preventing heat loss from your home is just as important as heating it. Renaissance fireplace doors seal tightly to prevent warm air from escaping up your chimney while our optional Chimney Top Damper completely seals off the chimney and prevents smells, air infiltration, and heat loss.
A Better Chimney System
Renaissance fireplaces are certified exclusively for use with Model RIS chimneys. RIS chimneys are a stainless steel chimney system with blanket insulation. They are engineered to withstand multiple chimney fires. They are the only large-diameter chimneys with a lifetime replacement warranty. RIS chimneys are insulated rather than air cooled which keeps cold air out and improves draft.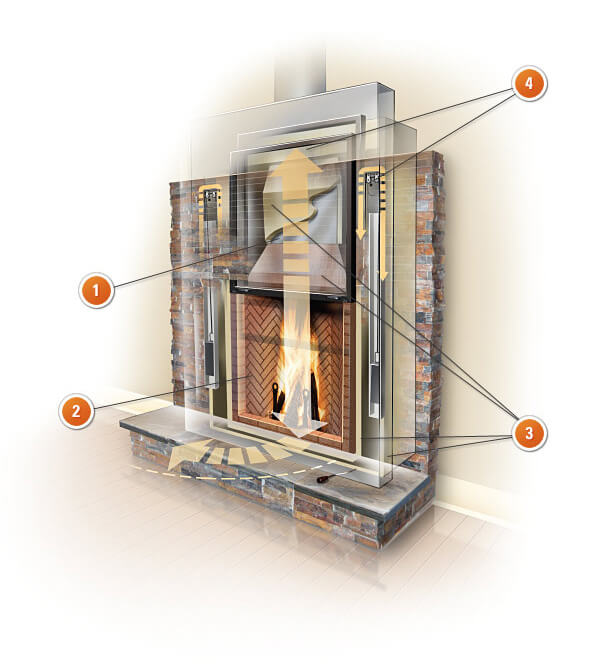 We fabricated the Rumford throat from smooth low mass insulating refractory: this promotes smoother air flow into the throat of the firebox and prevents cool room air from lowering combustion temperatures. 
Utilizing low mass insulating refractory throughout the unit resulted in hotter fires and lower emissions. Traditional firebrick is durable but it absorbs a lot of heat, making it difficult to achieve the high temperatures necessary for clean combustion.
Insulation, insulation, insulation: No magic here, the Renaissance Rumford™ burns clean because it burns hot. Lots of high temperature insulation is utilized, not only to keep the fire hot, but also to keep the outside of the unit cool and safe.
The Renaissance's guillotine door system was designed to be the smoothest operating and sturdiest guillotine fireplace door ever made. When the door is closed emissions plummet to a level equivalent to an EPA certified stove. The door is perfectly counterweighted so it can be raised and lowered with one finger and will stop smoothly at any point. The door lifts straight up and completely disappears within the facade above the fireplace, but can also be opened horizontally on a hinge so it can be cleaned easily. 
Need a manual?
Visit our library.
Downloads
WHERE 
TO BUY
Find a dealer near you.
Dealer locator